The International Confederation of Registers for Exercise Professionals (ICREPs) is an international partnership between registration bodies around the world that register exercise professionals.
ICREPs is a membership-based organisation.  Our full members all operate independent, competency-based registration systems for exercise/fitness professionals. ICREPs members operate in four continents, and ten countries, and collectively register almost 1/4 million individual exercise professionals. ICREPs has also produced a global matrix that maps each ICREPs member's registration levels against the others, which provides a clear pathway for exercise professionals considering moving countries.  For more information on how registers work, see our resources page on setting up a national register.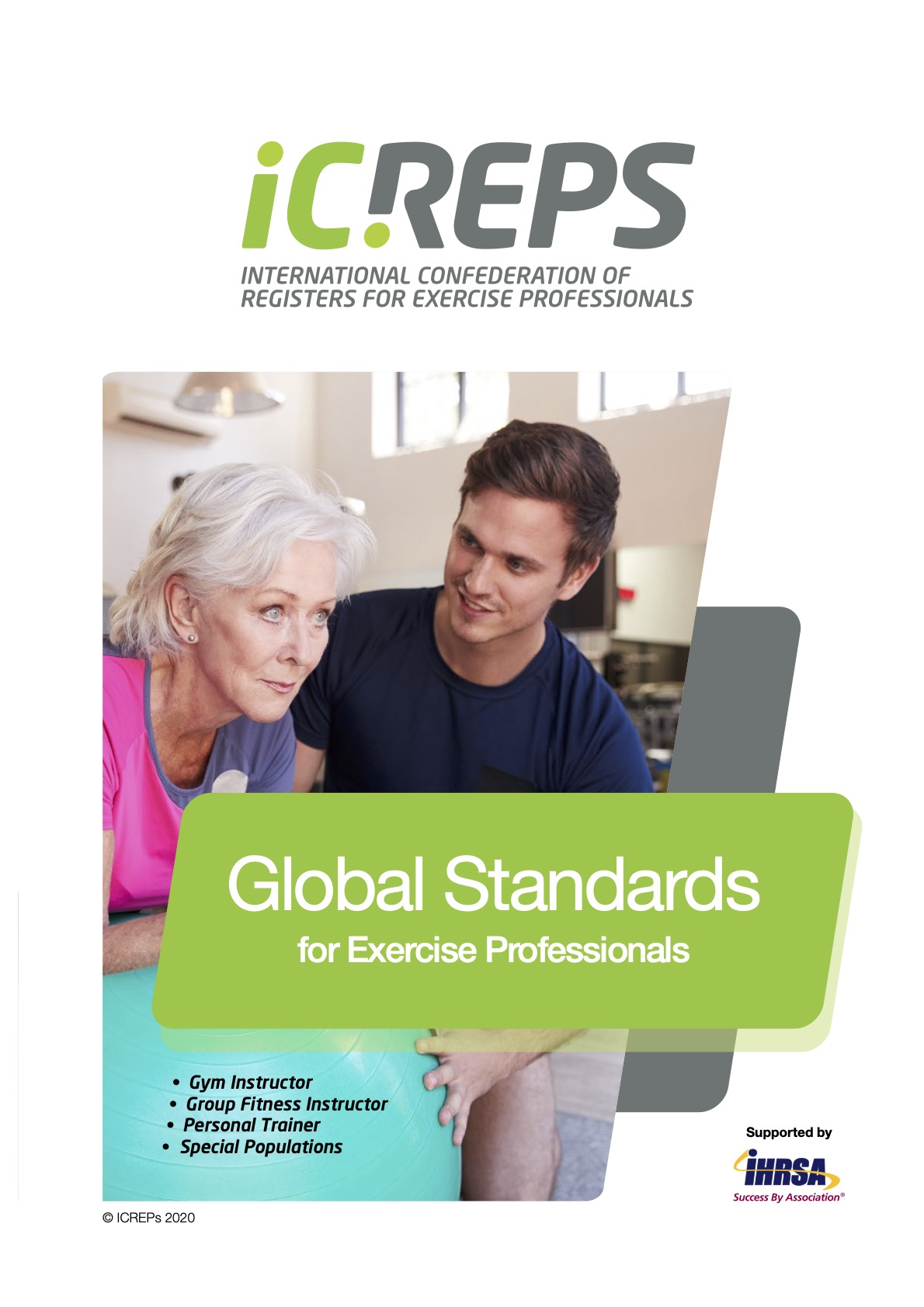 ICREPs has a comprehensive list of global standards for exercise professionals which can 2020 Global Standards.  Full details of how these standards were developed, and how they related to national standards of our members are detailed in the standards document.
For more information on ICREPs members, please click on the logos on the bottom of this page.  This will take you to the web site of the register that operates in that country/region, and will include information on how to register, as well as contact details of the registration body.
In addition to our members, ICREPs also is recognised by IHRSA (the International Health, Racquet & Sportsclub Association) as the global body representing national registration bodies of exercise professionals
ICREPs does not register individuals directory – if your country as an ICREPs member, please contact them directly for more information on how to get registered as an individual.
As of December 2020 ICREPs is developing a review system for courses that operate outside of ICREPs member countries to enable international recognition of graduates via various pathway options.  We intend to offer this on a trial basis in early 2021, with the intention of rolling this out globally in the 2nd half of 2021.
IMPORTANT: ICREPs is a membership-based organisation (meaning members must meet criteria and apply for membership to be part of ICREPs).  All members are eligible to undertake mapping against other ICREPs countries, with the ultimate outcome of being part of the Global Portability Matrix, which assists exercise professional in understanding the requirements of each register as they relate to other ICREPs members. Not all ICREPs members have undertaken the mapping – please check our global portability matrix for details. 
For more details on what ICREPs does, or to enquire as to how ICREPs can support a country to develop its own registration system, please browse this web site, especially the resources page, or contact us.